Load boards have advantages because they let you post loads quickly and effectively. It's an easy way to get the business rolling.

Find more capacity and more reliable carriers with DAT Express – DAT's load board service designed for freight brokers and shippers. DAT Express gives you unlimited posting and searching, instant alarm match notification, lane rate validation, Inbound/Outbound truck counts, the DAT Directory,

and access to DAT's CarrierWatch carrier monitoring tool..
**Get your first 30 Days Free! Sign up here**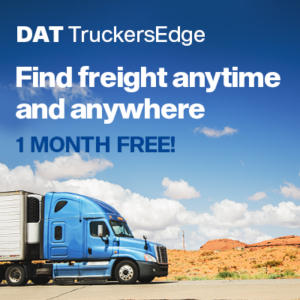 Today, booking a load can be time-consuming for both carriers and brokers, involving multiple phone calls, emails, and back-and-forth negotiations. DAT is currently developing new technologies to streamline that process, and a new option in DAT load boards — currently being refined in a pilot program — will automate freight-tendering without sacrificing the relationships that carriers, brokers, and shippers rely on to succeed.
In mid-March, DAT Load Board users will start to see Book Now buttons on select loads, allowing carriers to search for freight and lock in the rate with the click of a button on their mobile or desktop device. As we further develop the process, we'll be able to automatically match carriers with freight, further streamlining the process.
DAT load boards are the largest and most trusted digital marketplace for truckload freight. Learn more.
Pilot program underway
"The Book Now option will allow carriers to make faster, more confident decisions about booking freight," said Shannon Breen, Senior Vice President of Knight-Swift Logistics and Intermodal, a participatant in the pilot program. "We're excited to work with DAT to introduce this feature to our extensive core carrier network."
The pilot program will run through the end of May and includes a wide range of companies. In Knight-Swift's case, when a carrier clicks the Book Now button, they link directly to Knight-Swift's onboarding and negotiation portal to complete the transaction. In June, other freight brokers using DAT load boards can begin designating loads as "Book Now," and future development will allow users to complete the transaction from within the DAT platform.
Automating manual processes
The Book Now feature is just the first step in DAT's efforts to replace time-consuming tasks with intelligent automation. In later releases, the platform will learn the user's preferences and push out recommended loads based on the user's past choices.
Freight matching isn't the only area benefiting from advances in artificial intelligence. In January, DAT announced its new suite of rate analytics and forecasting tools . Those tools will be available through DAT Analytics in April, and available as an add-on feature in DAT RateView later in the spring.